| Choose from list of articles? | Next Article?

"Where The Lil' Guy Gets The Same Chance As The Big Guy"

Member's Success Story:
"Just flown off to Berlin and Hamburg in the last week for meetings with studios and labels. I've been offered a producing job for a new American artist from a Berlin studio with a good track record. ".... Ian Wood [Serious Writers Guild Member No: NET0477030W]

---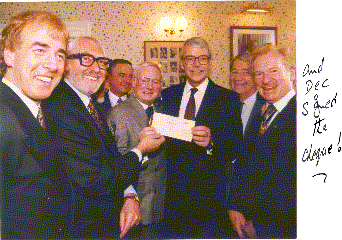 "Dec and his pals hand over a sizeable cheque to Right Hon. John Major on the Queen's Christmas Day TV message....and guess who signed the cheque?"
---
Rule #1 :
You are a part of the Music Industry
not to SPEND MONEY but to MAKE MONEY
That piece of advice alone is worth more than the cost of joining The Serious Writers Guild.
I'll tell you a quick story: I've been friendly with a wonderful couple from Brighton for about three and a half years. I've enjoyed their company and always look forward to seeing them.
She is five feet eight and gorgeous. He is dishy looking, a model, a dancer and best of all a millionaire. Okay, what's the point of the story?
About four months ago he rang me and said: "Dec, you are going to hate me for what I am about to say." Oh my God, what is this? I feared the worst... and got it!
"I've been writing some songs and I'd like you to hear them"
Oh no!
What a way to ruin a great friendship.
"Have you any idea on the number of demos I get sent to me each week?" I asked. "Have you any idea the amount of absolute garbage lands on my doorstep, supposedly called potential POP music each week?" I asked.
"Have you any idea what's involved in creating a POP record and moreover getting it sold?" I asked.
"I knew you were going to say all that," he said, "That's why I have hesitated so long to tell you."
To cut a long story short (although you can tell I enjoy telling the story) he came to dinner and while my wonderful wife kept his lady entertained we went into my studio.
I played him a 'just finished' master of a tune I'm involved with which will be No 1 in Australia this Summer. This trick has been played on me so many times! It always makes a demo sound awful by comparison (in future issues I'll tell you all the tricks that will be played on you!).
I then said: "Okay, the magic moment, give me your tape and I'll put it on."
"Oh no," said our brave hero, "it'll sound much better on my machine." He produced a pocket cassette recorder!
"This is how I record, in the bathroom... it makes my voice sound better!"
"What!" I said, "no backing, no music, just you." Sitting in my big producer's leather chair (designer, by the way... you should see it!), I felt an awful sick feeling coming over me. I just wanted out!
"Yeah, but I know everything that should be on the record when we make it, and I know the dance routines for the video and I know what the backing singers should do... everything!"
"Okay, I don't know a note of music now, but I'll learn, real quick, just watch me, I'm a fast learner."
By now you must know the outcome... yes the tape was absolutely astonishingly brilliant... not the quality, not the songs, not the words. JUST THE ENTHUSIASM!!!
Here was a guy who knew how to make a million... he'd already done it! He looked me straight in the eye and said: "Dec, it's not that I want to be a Star... I NEED to be a Star!"
"I'll give you a day in the studio, just you and me and we'll see what you come up with." This I said after thirty seconds of tape!
DOES THIS STORY START TO GET
YOUR BRAIN THINKING A BIT DIFFERENTLY?
IF IT DOESN'T, GET YOURSELF A JOB AS A BUS CONDUCTOR...
YOU'LL SAVE YOURSELF A LOT OF GRIEF IN YOUR LIFE!!!
What does it tell you?
Talent will out ... that's what it tells you.
Making money in Music is NOTHING to do with incredible demos, astonishing samples, keyboards, absolutely blinding guitar work with the latest outboard equipment. I've met people that have spent a fortune on buying the latest Protools and having demos made in expensive studios - but this man proved he had what it takes with a cheapo recorder and a bathroom! It's to do with a CRAZY, CRAZY attitude and just wanting to make a FORTUNE out of what you love to do!
We will deal in depth with every aspect of gaining that attitude as we explore this fantastic business of ours. Remember you are still a SHEEP! Someday you could be an INITIATE?
I have proved with my little story that you don't even need any instrument to make A MILLION FROM YOUR MUSIC. You don't need any musical knowledge in any shape or form to make A MILLION FROM YOUR MUSIC.
What you do need first of all is ATTITUDE and a burning ambition. You also need to understand fully Rule #1 which is worth repeating:
You are a part of the Music Industry
not to SPEND MONEY but to MAKE MONEY.
Become a Member of the 'The Serious Writers Guild' CLICK HERE
When you get involved with DEC you get the first program: "How To Make A $Million From your Music" - ten months of two knowledge packed books a month, stunning advice, today's methods for writing music, making music and promoting it. 24/7 access to the man himself. And you get a 'LIFETIME' guarantee.
If you ever pay DEC for anything, if you are not happy at anytime in your life with the product then return it for a complete, no-quibble, courteous refund! DEC means it!
That's not only a guarantee it's a personal promise
"There Is No Catch"
"There Is No Risk"
Become a Member of the 'The Serious Writers Guild' CLICK HERE
---


Every Sunday in your Email box FREE - Get the latest issue NOW!
'One Minute With Dec' - quality tips, tricks and professional, money making, know how in one minute..the widest read, weekly, delivered music Ezine on the Net
(just CLICK HERE fill in the simple survey - that's all )
Dec's advice :
Get in touch personally. Email dec@makehits.com to discuss what you want to achieve in music.
---
http://www.makehits.co.uk/art001.htm -- Revised: 19 Aug 2006
Copyright © 1999 - 2006 The Serious Writers Guild. All rights reserved.

| Choose from list of articles? | Next Article?