"Volume Two - It's Ready! Can You Handle It?"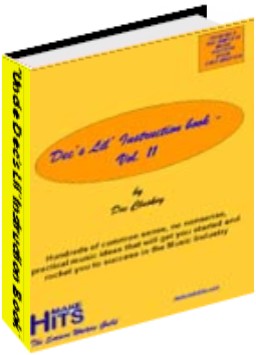 All the music questions you have ever wanted to ask!
All the music answers you have ever wanted to hear
Probably the most exciting Music Questions and Answers Book ever
OVER 130 MEGA PAGES CRAMMED FULL OF UNBELIEVABLE IDEAS
Now you can find those hard to get phone numbers in seconds, THEY'RE ALL THERE
You can have Dec's Personal list of the 'best price' music equipment warehouses...WHAT'S THAT WORTH?
Plus dozens of priceless hints and 'should do's'
Volume Two is ready....This is what you have been waiting for
Have you ever felt all alone in the career that you love? Have you ever felt: "If only there was somewhere to get the answer....somebody that will GIVE me the answer"?
Now 'Uncle Dec's Lil' Instruction Book - Vol II' gives you the very latest and best questions from guys just like you from all over the world...the worries, the fears the queries....plus the very best and most definitive answers from DEC CLUSKEY himself....and sometimes if DEC hasn't got the answer [he's only human...well, almost human!] he will go to every length to get that answer for you.
Over 130 massive pages of awe inspiring questions and answers, tips and know - how divided into NINE easy to get around sections...a 'must have', 'must read' for anyone serious in our music business.
This is an easy to understand, easy to read, deadly serious, but FUN reference book that will be 'by your side' for all your career. The thoughts and ideas will spark your creative writing mind....the management, agent ideas will calm your business fears....the legal answers will make you more at ease with the complexities of dealing with lawyers and barristers....the studio questions will certainly help you if you have your own studio, and if you don't, will certainly tell you what you SHOULD expect from the studios you visit.
Sections on SINGING, SONGWRITING, DEMOS AND CRITIQUES, MUSIC STYLES, MANAGEMENT, PRODUCERS, TECHNICAL STUFF, RECORDING, MIXING AND SOFTWARE PACKAGES....even sections on THE SERIOUS WRITERS GUILD, MASTERING, BOTTOM END, STUDIO GEAR ....in fact almost every question you have ever wanted to ask....
And all in Dec's blunt , 'over the top' style...
He certainly has a way of rubbing people up the wrong way...but at the end of the day, he is usually right and gives his help and guidance generously, to all who ask.....
Who was it predicted that 'off the wall' poetry put to 'today' music would become massive?
Yep, it was DEC...check his writings from three years ago...and now we have 'Eminem'. DEC was there first!
Is the question here that could change your fortunes?
1."Can a 'Name' make my song a 'Hit'?"
2." How do I become a TV/film composer?"
3." I funded the album myself...now what?"
4." How do good 'Gigging' bands get noticed by the 'Big Boys'?"
5. "Should I enter a song contest?"
6." Please tell me about 'Copyright'"
7." I have received a management contract...now what?"

A sample 'full' question from Section 7....
Question 5: " I have written the incidental music for the second sequel to a very successful computer game. I can provide my demos on mini disc or cassette, which would be preferable? How should the covering letter be worded? Who would be the best contact to send it to? How would I negotiate a deal, including royalties?"
And also there is a personal promise from DEC: "If the answer is not here to your question, I will personally answer it for you....if I don't know, I will find out within 24 hours....that's more than a guarantee, that's a personal promise."
Check out the totally secure, encrypted payment details...HAVE YOUR CARD HANDY.....TOTALLY SECURE, TOTALLY SAFE!
RUSH ME 'Uncle Dec's Lil' Instruction Book - Vol 11'

Go to 'Chose Product', select 'Uncle Dec's Lil' Instruction Book - Vol 11' and Fill in your details. You will be reading the most powerful, instant help you have ever held in your hands, as quick as we can get it to you....it's up to you how fast you implement the knowledge......
FREE INFO PACK? QUICK CREDIT CARD HOTLINE?
or just prove we are real? +44 (0)1323.728005
[UK office hours]